Do you know what effect bee honey has on your skin? It is the most valuable cosmetic ingredient with proven moisturizing, nourishing and rejuvenating effects. When used in cosmetics, it increases their effectiveness and enhances hydration, smoothness and excellent skin condition. That's why Maltese Honey Body Cream with exceptional honey is one of the most popular body products. Its fame has gone around the world! Do you already know about it?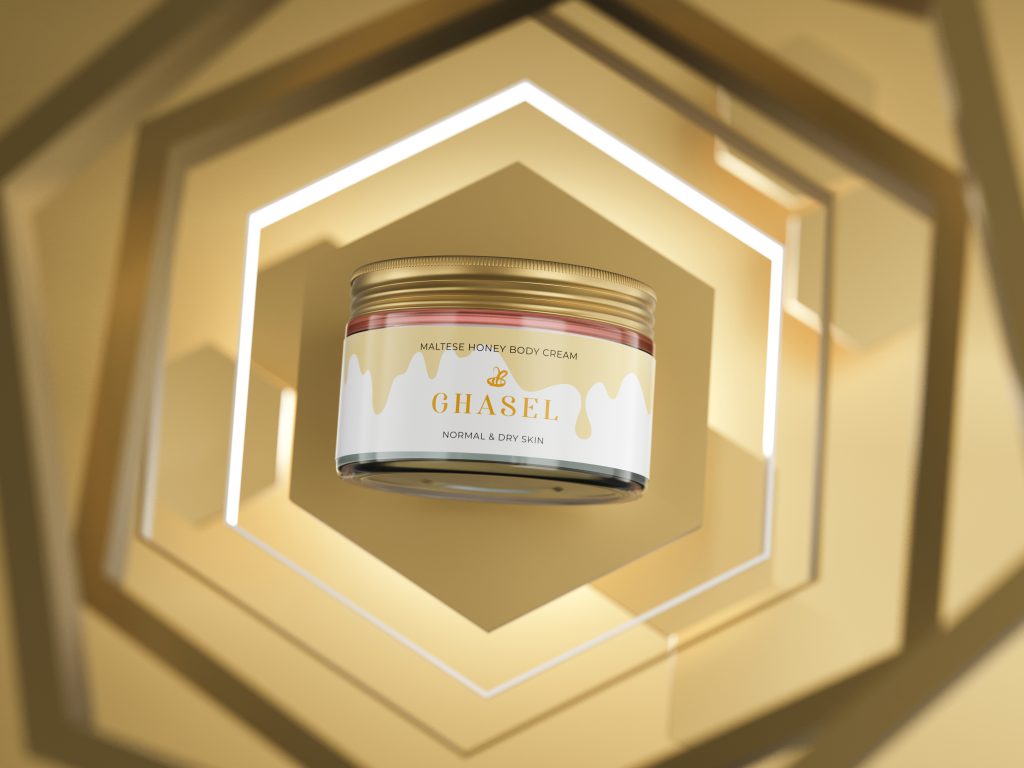 Meet the unique cosmetic: Ghasel Maltese Honey Body Cream
The Maltese brand Ghasel knows that the most important thing in a cream is its composition. That's why it has created Maltese Honey Body Cream – a rich and highly nourishing body cream, whose composition is dominated by exceptionally nourishing honey from Malta, which is a treasure trove of vitamins and minerals important in the proper functioning of skin cells.
Did you know that …
… thanks to a huge amount of antioxidants, honey has a rejuvenating effect, as well as an anti-acne effect? It quickly improves the condition and appearance of the skin. Its composition includes glucose and fructose, which revitalize even deep tissues and guarantee proper hydration of the skin. Ghasel nourishing body cream with honey is the ideal cosmetic for daily skin care!
Maltese Honey Body Cream from Ghasel – ingredients and their effects
Honey – we mentioned that it is a treasure trove of vitamins and minerals, nourishes tired skin, helps revitalize the epidermi
Shea butter – strongly moisturizes and has an occlusive effect, it also smoothes the skin and inhibits the occurrence of wrinkles
Avocado oil – provides protection against water loss, contains up to 7 vitamins important in skin care and makes the body smooth.
Calendula – has soothing, moisturizing and anti-inflammatory effects
Marshmallow – has an anti-inflammatory effect and is beneficial in the care of problematic skin
Horse chestnut – improves circulation and oxygenates cells adding elasticity and vitality to the skin
Vitamin E – antioxidant that slows down aging
Vitamin B12 – thoroughly smooths the skin
Body cream with honey from Ghasel – action and benefits
Hydration for 24 hours
Satin-smooth skin effect after just one application
A plus to skin elasticity and firmness
Reduces the appearance of cellulite
Helps to prevent stretch marks
It is efficient and smells beautifully, soothing the senses
Is free of silicones, parabens and GMOs
Ghasel Maltese Honey Body Cream – how to use?
You can rub the cream into your skin whenever it starts to get dry and you feel discomfort. It is great as a daily body lotion. Use it after bathing as well, when the skin is moist and therefore more absorbent. It is also ideal after a body scrub – it will strongly nourish, smooth and moisturize the skin.
Ghasel Maltese Honey Body Cream – reviews
Did you know that this prestigious body cream with a strong moisturizing and nourishing effect has become popular all over the world? Women enthusiastically admit that their body has become smooth, the skin beautifully moisturized and pleasant to the touch. Maltese Honey Body Cream makes the skin firmer and super smooth! Plenty of consumers also admit that the cream is very efficient and has a beautiful, relaxing scent. Women enthusiastically write that they have not yet had a better body cream or smoother skin than after GHASEL!
Visit ghasel.mt