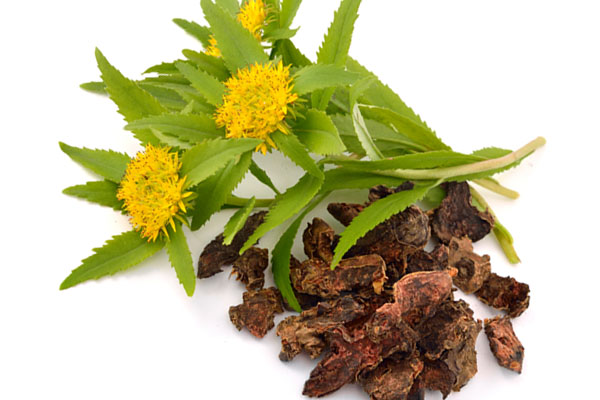 Golden root, roseroot, Arctic root, king's crown – all these names describe a plant with tiny yellow flowers and fleshy leaves. Rhodiola Rosea – for centuries, used in folk medicine. It perfectly relieves stress and fatigue, and also improves memory and concentration. It turns out that the active compounds contained in it have a strong beautifying and rejuvenating effect. What are they? Why was the whole world suddenly interested in mountain, not very charming flowers?
Rhodiola Rosea – description and composition 
The plant is native to cold circumpolar areas, and thus the areas of Scandinavia, Siberia, part of North America. It owes its name to its subtle and pleasant scent, which is most noticeable after cutting and drying its root.
The health-related properties of the plant are nothing new – it has been used for centuries by people inhabiting the northern, arctic regions of the Earth. It gave solace to organisms exhausted due to cold, positively influenced the thought processes, and additionally – acted like a multivitamin bomb, which perfectly complemented the diet.
Rhodiola Rosea has a very rich and unusual composition: it contains a huge amount of biologically active substances. These include: tyrosol, procyanidins, salidrosis, rosin, large amounts of flavonoids, organic acids, polyphenols and small amounts of tannins, fats, coumarins, wax, sugars, and sterols.
Rhodiola Rosea – cosmetic properties 
Thyrozol and procyanidins are powerful antioxidants. They slow down the aging process of tissues and additionally neutralize the action of free radicals. They also neutralize the effects of factors that are harmful to the body causing aging and weakness of cells (air pollution, poor diet, trans fat, metabolites, lack of sleep, tar substances and controversial ingredients of cosmetics, drugs, and stimulants). Thanks to the high content of tyrosol and procyanidins, Rhodiola protects the structural proteins in our body from damage, making the skin age slower.
Thanks to the flavonoids the production of collagen and elastin is increased and their breakdown is prevented. This means that the Rhodiola Rosea cares for the firmness and youthfulness of the skin, strengthens the hair from the root itself (ie from the bulbs) and prevents it from falling out.
Organic acids protect the skin and hair from the damaging effects of internal factors, prevent the loss of moisture and care for the correct course of processes occurring in the skin cells.
Rhodiola Rosea – cosmetic use 
The root of the yellow plant is its most important part – the extract obtained from it is used in face creams with anti-aging effect, under-eye creams, shampoos, and conditioners for mature hair with weakened resistance, tired and falling out.
Thanks to its strong antioxidant properties, Rhodiola is an irreplaceable ingredient of cosmetics designed for "skin in the city". It sweeps free radicals, protects against toxins, impurities, and smog.
Antioxidants derived from its root are perfect for hair care cosmetics – it's best to look for them not only in conditioners but above all, in hair masks – they work intensively to regenerate, protect and strengthen the hair.
Rhodiola Rosea helps solve the problem of thinning hair that does not want to grow. The plant extract stimulates the growth of healthy strands and prevents them from falling out and getting frizzy, restores their elasticity. Hair becomes shiny, strong and smooth, and tamed.