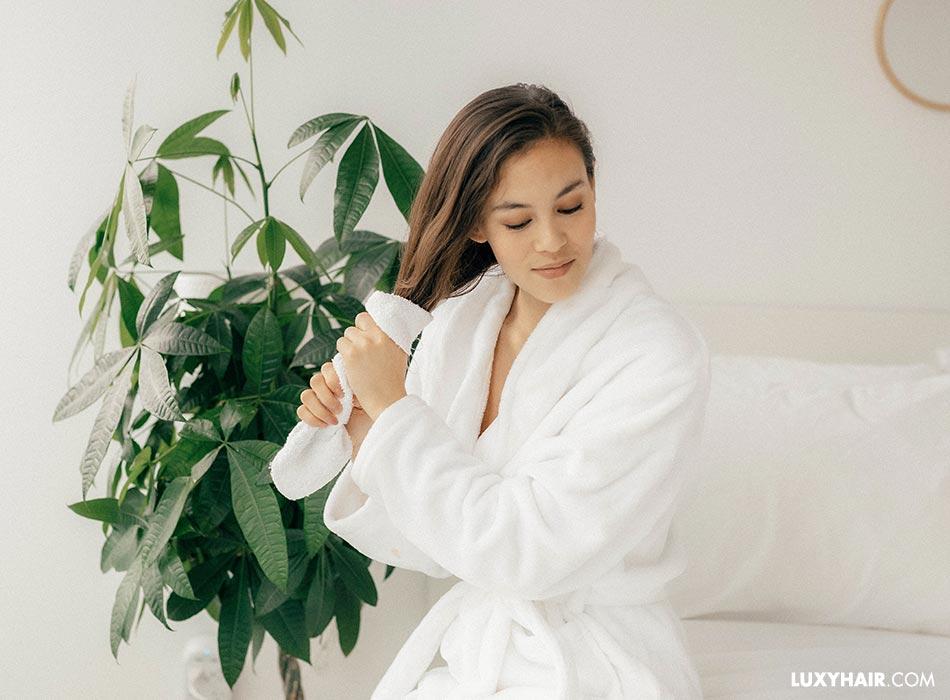 Non-stop static hair can be nagging but you can't blame the strands. If hair isn't taken care of properly, it will never be smooth and shiny. The easiest remedies turn out to be the best. Start using them and feel the difference!
I'm sure you know this scenario: you take a hat off in the winter and your strands start flying away… Unruly hair is tiring and we often struggle to smooth it out without success. It's time you learnt the cause of static flyaways and the way to prevent that. Your hair will look its best in exchange.
Causes of static hair
The best way to fight a hair problem is to… prevent it! Instead of learning from your own mistakes, start learning from others'. Let's eliminate things that spark static:
extremely dry, damaged hair is coarse and more prone to static.
heat styling, including blow-drying with hot airflow, using a flat iron or curling wand often.
physical damage during brushing, rubbing against synthetics e.g. scarves, hats, jackets.
weather conditions: changes of temperatures and humidity indoors and outdoors.
Does the choice of a hairbrush really matter?
The tool you use for brushing is extremely important. Static-prone hair needs special accessories. What are they? Ideally, choose a brush made from natural material: wooden combs and boar-bristle brushes work well because they don't trigger extra discharge.
Giving up on plastic combs and brushes is a safe solution if you're having problems with static flyaways. Different types of materials may intensify the problem.
Prevent instead of treating!
What to do when hair starts going static? Stay calm and act carefully. Proper hair care is the key to success because static affects dry and damaged hair. A good conditioner or mask moisturizes and repairs weak hair in the wintertime. It keeps the optimal amount of nutrients and water in hair so it's smoother, healthier and more resistant to damage and static.
An ionic dryer or brush is a great fix to the problem since it prevents static. Such devices work in a simple way: they emit proper ions which have an electrostatic effect, holding back static flyaways.
Home remedies for static hair
Obviously you can try some home remedies for static hair. They come in useful whenever the correct shampooing, drying or brushing is not enough. See the best fixes.
1. Natural hair oils
Use a tiny amount of your favorite oil (argan oil, jojoba oil, almond oil or other) after shampooing and prior to blow-drying to keep hair static-free. Oils are rich in beneficial fatty acids and ingredients which rebuild the natural hydro-lipid mantle and create an invisible layer on the hair. This super-thin layer keeps water and nutritional ingredients inside the hair, making it smooth at the same time. That is why a bit of oil helps tame unruly hair.
2. Liquid silk
One of the most popular proteins – liquid silk – has a similar effect. Hairstylists like to use it as a finishing touch since it gives a lovely gloss and smoothness, plus it makes brushing easier. It also softens the hair and holds back static. Just one drop rubbed into hair after washing is all it takes to make liquid silk do the trick.
3. Hydrating hair mist
If you're not big on oily products or liquid serums, make use of a convenient spray-on hydrating hair mist. A perfect one will include at least one oil and, obviously, hydrating substances. Hair keeps moisturized so it's less prone to dryness and static. You can get the mist at the store or do it yourself by mixing water with vegetable oil and aloe leaf juice.