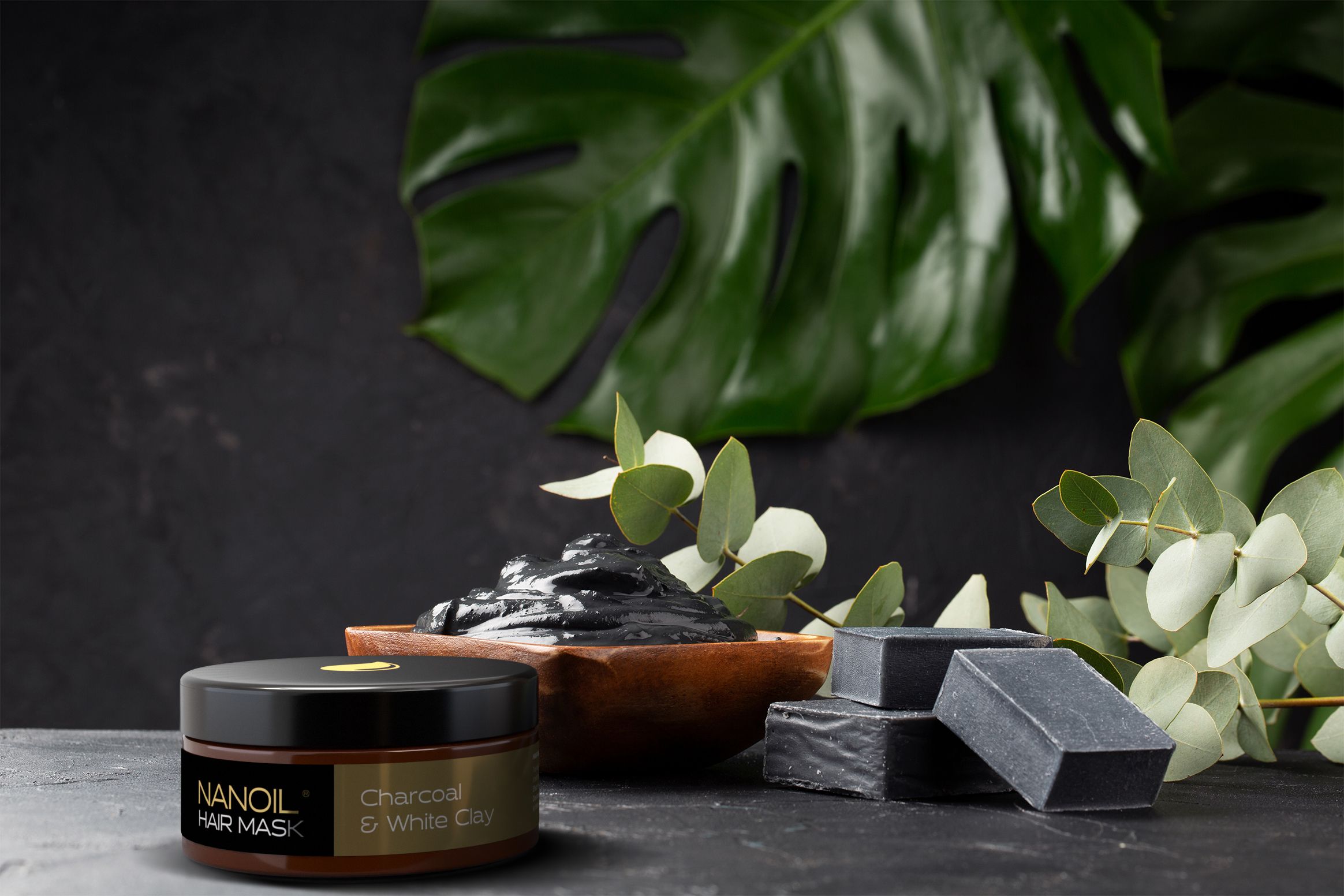 Arranging nice and lovely hairdos isn't enough to help your locks look nice and lovely. If you want to have the hair that make you look beautiful, you need to know not only how to nourish it but also how to clean it effectively. Indeed, you use a shampoo – that is obvious – but is this hair care product really efficacious? Deep hair and scalp cleansing is possible thanks to Nanoil Charcoal & White Clay hair mask. Here are a few pieces of information about this hair care product you may find useful.
Black hair mask? Charcoal hair mask? Clay for hair? Scalp detox? This is exactly what your hair needs. Say YES to the the most important one of all healthy hair habits – regular hair and scalp cleansing. Give Nanoil Charcoal & White Clay Hair Mask a go. Before doing this, however, learn what this amazing product hides inside and how your hair can benefit from being treated with it regularly.
Nanoil Charcoal & White Clay hair mask
Surely, you have never had a hair mask like this one before! This is a lightweight and well-absorbing formula that owes its hair-improving power to activated charcoal and natural white clay – two substances that are currently recognized as the best ones to cleanse and detoxify our bodies. Both ingredients make Nanoil Charcoal & White Clay immensely popular among all the ladies who struggle with frizzy, overburdened and over-processed hair that gets oily awfully fast.
This is a conscious consumer's choice. Join the group of women who improved their looks with Nanoil beauty products such as charcoal and white clay hair mask.
Charcoal & Clay: The duo your hair needs!
Both ingredients are placed at the beginning of the list of ingredients of Nanoil hair mask. And there is a reason for that – just look at their properties. Why the activated charcoal and white clay combo should be considered as an irreplaceable solution for having stunning hair?
Activated charcoal – is like a vacuum for hair because it effectively absorbs dirt, dust, dead skin cells, excess sebum, residues of hair styling products and all the other impurities that accumulate on scalp which we can't see (e.g. hazardous toxin).
White clay –  mineral kaolin, being the gentlest of all clays, it serves sensitive scalp well leaving it clean and conditioned. Also, white clay is known for reducing irritations by bringing relief and encouraging skin healing.
Apart from these two ingredients, Nanoil Charcoal & White Clay contains something else! These are extra substances that help you take care of the hair better:
hair strengthening and nourishing vitamin A+E complex
panthenol that encourages damage repair and moisturizing
rich in mineral salts sea algae that ensure hair regeneration
as well as sericin, which is a hydrolyzed protein that is able to leave hair stronger.

Cleansing & detox with hair mask by Nanoil
Does it work? You can doubt whether deep hair and scalp cleansing with a hair mask is possible. But to be sure, you have to try it. Just let you see for yourself how powerful charcoal and white clay are.
You don't have to use Nanoil Charcoal & White Clay Hair Mask more often than every 2-3 days, after hair shampooing. Just like you would do it with any other hair mask, apply a portion to damp hair, put on a foil cap and rinse after 15 minutes thoroughly. This simple method of applying the mask is the fastest way to get strong hair and healthy scalp. The scalp that stops getting oily fast, with no itchiness or dandruff and the hair that is voluminous and freed from spray residues.
What's important, Nanoil hair mask with charcoal and white clay improves the hair in a natural way. This means that the cleansing and detox it provides helps hair restore its natural balance. The hair improving process is completely safe and doesn't contribute to dehydration.
Find out how much this product cost and learn other Nanoil hair care products available on www.nanoil.co.uk. Enhance your beauty today!