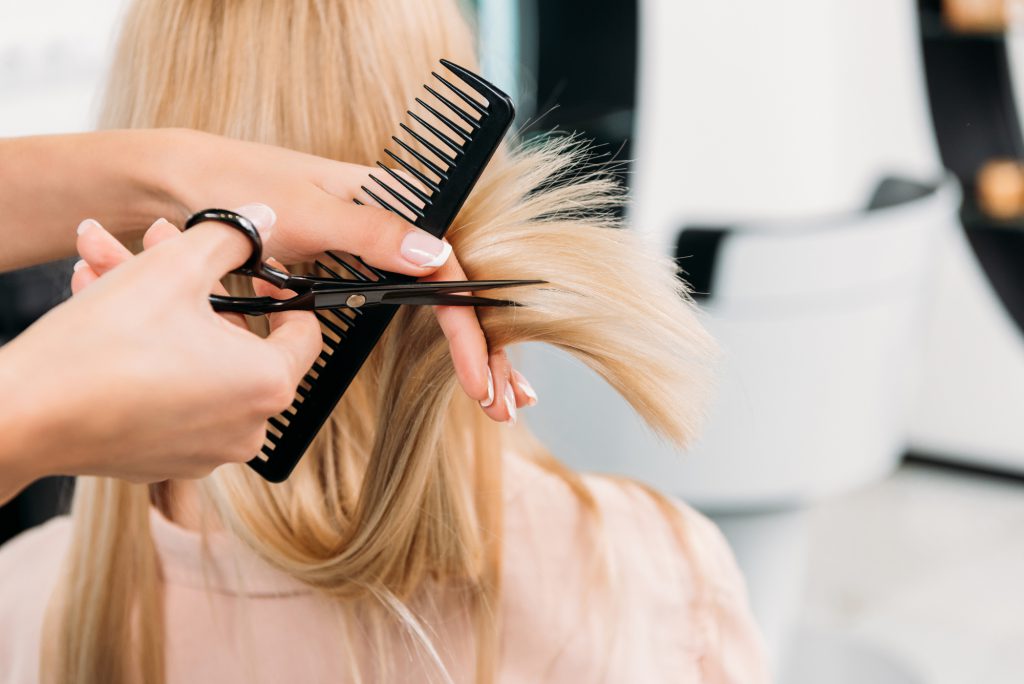 Hair care is a constant challenge that frequently ends up in a failure, and this takes the form of split ends. How to save the fatigued hair ends? Learn five common ways to deal with split hair ends problem.
Every owner of long hair knows what it means to have split ends – endlessly unruly, dehydrated, affected by static, hard to tame and unpleasant to the touch. Yes, stuff like that happens.
Why hair gets split at ends?
There are plenty of reasons.
The most important though is that our hair requires to be exposed to constant care. If you don't devote enough time to the strands and when the care delivered turns out to be insufficient, the hair immediately loses nourishment and hydration, which inevitably leads to split ends. This problem escalates even more due to frequent hair-salon treatments, especially the ones which require use of high temperatures or chemical substances (e.g. straightening, dyeing, perm, decolonization). Also, mechanical factors have influence on the state of hair, and these include too energetic hair combing, tugging hair while brushing, hair rubbing against the pillowcase while you sleep, etc.
How to prevent split ends?
The truth is, it's hardly possible to join the split hair ends together, and therefore they have to be simply trimmed. In light of this, if you care for having long, beautiful and healthy hair, you must focus on protection. Prophylaxis mostly depends on staying away from the factors that might possibly ruin the hair ends.
Here are the golden rules of hair ends care:
if you go to sleep, always tie your hair first;
replace a cotton pillowcase with a smooth silk one;
blow dry hair using cool air stream keeping the tool in the safe distance from the head;
limit hair dyeing and bleaching;
protect hair against scorching sun;
apply protecting products, e.g. hair ends serum;
regularly carry our hair oiling to strengthen and protect the strands.
TOP 5. The best techniques to treat damaged hair ends
You don't know what should be done with your hair ends that are clearly weakened and have the tendency to split? Learn the below five ideas to deal with split ends. Choose the one that suits you best and take up the action!
If your hair ends are already split, you have two options to choose among.
Trim the hair – sometimes this is the best solution, especially when the hair is severely split, dry and burnt (e.g. due to the overuse of a flat iron) in the ends. In such case, doing your best to rescue the fragile hair parts doesn't make much sense so it's definitely better to get the hair trimmed – it'll gain lightness and start looking good. Then, you should introduce the right type of care to prevent the ends from splitting ever again.
Olaplex treatment – the hope for split ends is the popular Olaplex treatment, which is an in-salon treatment that enabled Kim Kardashian to transform from her black hair colour into platinum blonde without causing any damage to her strands. Olaplex is available in most hair salons. In short, it depends on regenerating and rebuilding hair – and to be more precise, it depends on rebuilding the sulfur bridges in hair which maintain good condition of hair.
If your hair has the tendency to split, there are three options to choose from.
Silicone serum – application of serum to hair ends is an easy way to regenerate ends and prevent their splitting. It won't work though if the hair is already severely damaged, yet it'll serve its purpose in a crisis situation. To clarify, silicones are able to create an invisible protective coat on hair that shields the strands against mechanical damage. Also, such products gift hair with softness and smoothness.
Natural oil – a better solution than applying a silicone serum is the use of natural oils. The best natural hair oils to treat hair ends with are: castor oil (good at reinforcing), argan oil (provides heat protection), cotton seed oil (regenerates hair ends) – they can be used separately or as a blend. What's more, a characteristic feature of natural oils is that they prevent split ends and protect against water loss. Also, they are able to penetrate inner hair structures by supplying the hair with nutrients and rebuilding it from the inside.
Honey mask – an interesting way to deal with split ends is a honey hair mask. Bee honey is another natural substance that aids in preserving the right level of moisture in hair, leaves hair soft and elastic, thanks to which split ends problem is fought back. The mask is easy to prepare. Combine honey, egg yolk (regenerates hair), a spoon of olive oil and lemon juice (mind you, it has lightening up properties).
Naturally, there are more ways to combat, prevent and fix the problem of split ends. However, the above-mentioned are definitely the most worth trying.