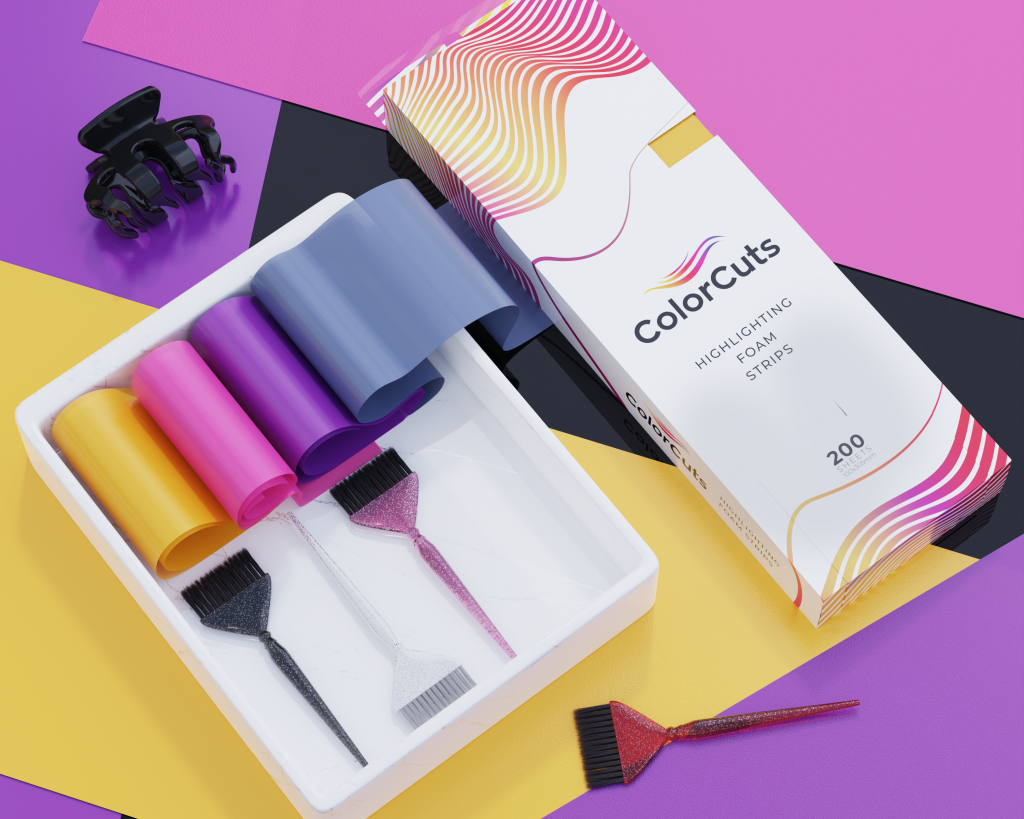 Thermal Highlighting Foam Strips. Multi-Tonal Hair colouring In No Time!
Colouring and highlighting hair are the most popular treatments in hair salons. Ombre, sombre and balayage are also eye-catching. Impractical aluminium foil is a hairdresser's nightmare. The slippery foil constantly tears and heats up, causing damage to the hair. The ColorCuts brand introduces a revolution – eco-friendly Highlighting Foam Strips. They can save you time and provide a lot of new customers. How is it possible?
The precise and biodegradable ColorCuts strips
A good gadget should make things easier, not harder. Strips that slip off the hair and refuse to stick are thankfully a history. Color Cuts provides innovative solutions for your hair salon. Highlighting Foam Strips are becoming increasingly popular all over the world. They are exceptionally easy to apply – simply place the strip underneath the hair section and fold it in half, allowing it to get a grip and cling to the hair.
The box contains 200 polystyrene strips. They are made from 80% recycled materials, so you can reuse them multiple times. Wash them in the washing machine or by hand and they don't lose their quality and properties. You can easily place them at the roots to get unique results.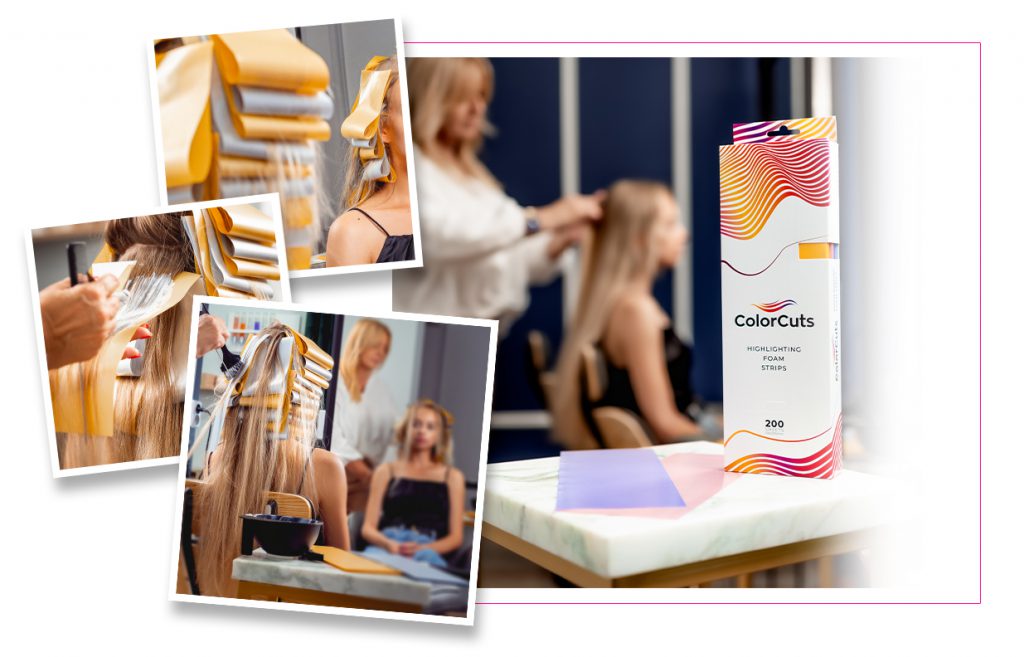 Highlighting Foam Strips are eye-catching and precise. They look nice on the hair, making clients feel luxurious. The handy box cuts colouring time by up to half. The strips make it easy to apply the dye and are suitable for any hair length as they measure 100 x 305 mm. The colourful strips maintain heat, protect each hair section and ensure air circulation between the layers. They don't cause thermal or mechanical damage. They don't pull on the hair during removal, providing the ultimate comfort of the treatment.
ColorCuts recycled strips for multi-tonal hair colouring
Biodegradable strips are the perfect replacement for impractical aluminium foil. The foam strips are pre-cut and ready to use. Their effectiveness is high and reliable. A saving that ensures up to 800 uses!
Color Cuts strips stand for the highest level of hygiene and ease of use. You are going to love these strips from the very first use. They are comfortable, so you can easily achieve multi-tonal colouring, highlights, balayage, sombre or ombre. You can create anything your customer dreams of, cutting colouring time in half.
Step 1 Separate the section you want to apply the hair dye to.
Step 2 Place a strip of Color Cuts in the colour of your choice underneath the section.
Step 3 Apply the colouring product with a tinting brush.
Step 4 Fold the strip in half and pull the top off so the strip sticks together.
Step 5 Repeat the process on all sections.
Wyświetl ten post na Instagramie
And you're done! Your clients will be astonished by your colouring skills! The perfect results of Highlighting Foam Strips are causing a stir worldwide. If you are not yet proficient in multi-tonal colouring, these strips can facilitate the colouring procedure.
Trust the professionals who agree that ColorCuts create the best gadgets for spectacular hair colouring. They deliver high aesthetics, working comfort and environmental care. Take care of your customers and provide them with dazzling results! Learn more about the product: www.colorcuts.mt.
---