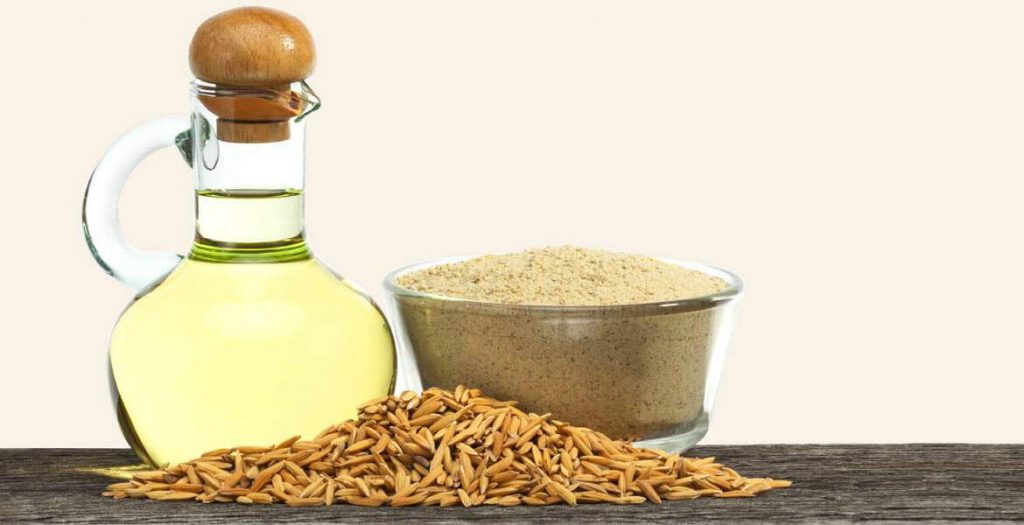 Rice bran oil is the leading cosmetic of Japanese women – they use it in their daily body, face and hair care. Its key and unique ingredient is the gamma-oryzol, which has a stronger antioxidant effect than vitamin E. What secrets does rice bran oil hide? Why is it such a great cosmetic? Let's find out!
Rice bran oil according to INCI: oryza sativa oil
Rice bran oil is obtained from rice bran, i.e. a brown top coat, removed during the production of white rice. Rice bran has proven to be a valuable source of many care substances important for the skin and hair. What does rice bran oil contain?
Rice bran oil – composition
Rice oil is an exceptional product because it has an unusual composition. Its strongly beautifying and rejuvenating effect is hidden in gamma-oryzanol. It is a combination of ferulic acid, phytosterols and other organic substances valuable for the skin.
Phytosterols have a direct impact on maintaining the good condition of the skin, because they limit the breakdown of collagen and elastin – the two substances responsible for its youth and firmness.
Ferulic acid is one of the strongest, well-known and natural compounds with anti-aging effects. It also has depigmentation properties which means that it removes all discoloration and pigmentation spots from the epidermis, brightens the skin, and ensures an adequate level of hydration.
It turns out that gamma-oryzanol is a stronger antioxidant than vitamin E, commonly referred to as the "vitamin of youth". Rice bran oil also contains ceramides that take care of skin firmness, smooth it out and prevent sagging and gravity-caused wrinkles. If you are looking for natural coenzyme Q10 in cosmetics, then you should know that you can find a high concentration of it in rice bran oil. Coenzyme Q10 reduces small wrinkles and delays the aging process of the skin.
Rice bran oil is also suitable for the care of oily and acne-prone skin: it soothes inflammations, heals and soothes, calms the skin, ensures the proper level of sebum secretion, regulates the work of sebaceous glands, closes the skin pores and leaves the face smooth. The oil also treats acne lesions by preventing the formation of new blemishes.
Rice bran oil – cosmetic use
Rice oil can be used on the face and body as well as on the hair. Many women also use it for nail care daily by rubbing it into the nail plate.
Rice bran oil for the face
The oil is hypoallergenic, it does not irritate or sensitize, so it is suitable for all skin types. Due to its anti-aging properties, it is especially recommended for mature and sensitive skin prone to allergies. It also works well in the treatment of acne lesions.
The oil can be applied directly to the face (preferably at night before bedtime, in the form of a serum to the face – during your sleep, the skin absorption is greater, which provides more intensive care). Also, it can be mixed with a selected skin care cream.
Moreover, rice bran oil will be perfect for the care of male facial hair and will relieve irritation after shaving.
The oil is well absorbed and does not make the skin oily. People with dry skin can use it as a makeup primer. Rice oil is also suitable as a component of powder masks (eg clay masks). Just mix it with the powder and apply the paste to the face. It will intensify the action of clay. What's more, it is also a great cosmetic for the summer, because it contains a natural UV filter that protects the skin against photo-aging.
Rice bran oil for hair
Rice oil is ideal for the care of hair with medium porosity, i.e. weakened, thin, dull, with a tendency to falling out. Vitamin E, phytosterols, good fatty acids (including valuable ferulic acid) improve the condition of the scalp, repair damage to the surface of the hair, protect the bands from damage and adverse external factors, strengthen hair bulbs and positively affect their healthy growth.
Rice bran oil has a good absorbability and does not weigh the hair down, it is easy to wash after oil treatment and leaves the hair nicely polished. It can also be used to protect the hair ends and to prevent them from splitting.
Thanks to the antioxidant properties of the oil, the scalp is clean and the level of sebum secreted is balanced. With regular hair oiling, the hair is no longer greasy, whilst the excessively dry scalp is adequately hydrated. In other words, rice bran oil brings relief to the skin and ensures its proper hydro-lipid balance.
There are many ways to use rice bran oil in hair care: most often, it is applied to the hair and scalp itself, but you can also mix it with your favorite conditioner, hair mask or herbal infusion to get a scalp lotion with regenerating properties. Another common method is preparing a hair mist that does not require rinsing: the oil should be mixed with plenty of herbal infusion, aloe juice or hydrolate and sprayed it onto damp hair after washing.