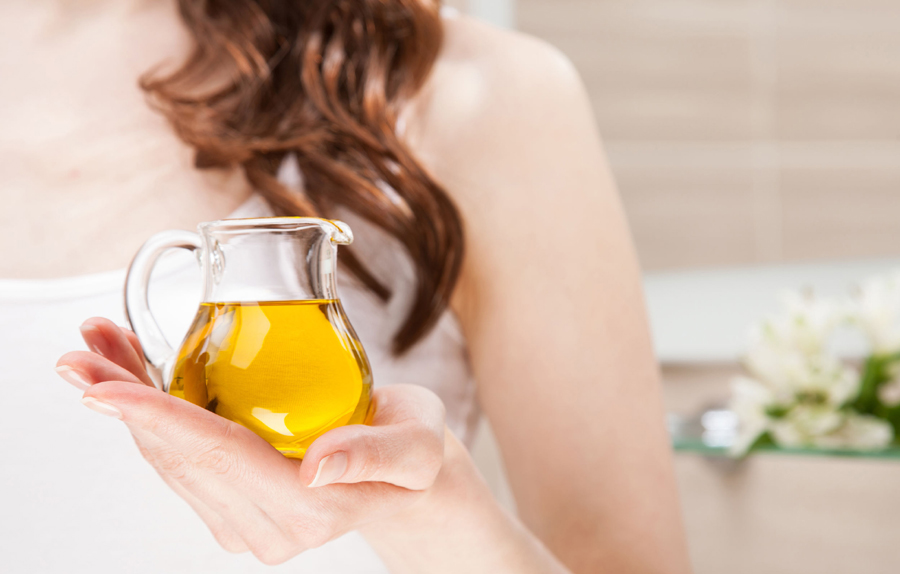 Rapeseed oil improves the condition of the hair and scalp – it combats dandruff and prevents hair loss and the ends from splitting. It can be used on its own or combined with other oils. There are many ways to use rapeseed oil in everyday hair care, especially for its natural regeneration and improvement of the overall condition. Find out how to use rapeseed oil for your hair.
How to use rapeseed oil in hair care?
1. Hair oiling for enhancing smoothness and improving hair overall condition 
First of all, you must combine rapeseed oil with olive oil in equal parts, preferably 2-3 tablespoons of each. Then, place the oils in a bowl and slightly heat it up. This way, the homemade oil blend will become runnier and as a consequence – easier to use. Note that olive oil can be replaced with coconut oil if you prefer.
Also, it is worth using a cotton pad to facilitate the application – soak it in the oil blend and apply it to the scalp and hair. The treatment is especially recommended for the owners of dry hair. The effect of hair oiling will be strengthened by making a scalp massage which should last about 10-15 minutes. The mixture of oils should be left in the hair for about 2-3 minutes. After the treatment, you can go ahead and wash your hair, preferably with a mild shampoo.
In order to obtain satisfying results, we can apply rapeseed oil alone to the hair and scalp. It is enough to heat it until it reaches a smooth consistency. Then apply rapeseed oil to the hair and scalp, gently massaging it. At the end, it's enough to cover your hair with a towel or put on a shower cap and leave the oil in your hair for about 20-30 minutes and then give it a thorough rinse.
2. Rapeseed oil vs. dandruff
Rape oil supports the fight against dandruff. Just mix it with tea tree oil or castor oil. As a base oil, rapeseed oil should appear in a greater amount. Then, gently warm up the oil blend before the application. You can continue using it for another 3-4 weeks.
3. Rapeseed oil for thinning hair
Hair loss is a common problem that can have many causes, such as a vitamin deficiency or various diseases. Regardless of the source of the problem, it can be solved by homemade methods, including using rapeseed oil.
To reduce hair loss, mix rapeseed oil with olive oil or almond oil in equal proportions. The blend can be enriched with essential oils such as lavender oil, sandalwood or lemon oil to give it a pleasant aroma. Keep in mind that using warmed up oil blend strengthens the hair. What's more, do not forget about regular scalp massages, which will improve the blood circulation of the hair roots and provide them with valuable nutrients.
4. Hair moisturizing mask with rapeseed oil
Rapeseed oil provides various conditioning properties, and at the same time, supports the treatment of dermatological problems. In addition, it is used for regeneration and moisturizing hair overprocessed due to chemical and thermal treatments. For this purpose, just mix three tablespoons of rapeseed oil with almond oil or tea tree oil. The mixture should be gently warmed, applied to the hair and covered with a cotton cloth. It is worth leaving it in the hair for 1-2 hours, then wash it with a mild shampoo.
5. Hair mask based on rapeseed oil, beer, and eggs
Beer is a low-alcoholic drink that can be successfully used for hair care. Why? Because beer boosts hair growth! For this reason, a hair mask based on rapeseed oil and beer will effectively strengthen and regenerate the strands. To prepare it, just mix half a glass of beer, a tablespoon of rapeseed oil and egg yolk. Then apply the whole thing to the hair, leave in for about 10-15 minutes and wash with cold water. To obtain the best results, the mask must be used on regular basis.
6. Nourishing hair mask with rapeseed oil
To prepare an effective nourishing mask for hair, it is enough to mix a few tablespoons of rapeseed oil with half a banana and a few drops of honey. The whole thing should be blended to a smooth mass, then put onto the hair, covered with a towel and rinsed with cold water after about 45 minutes. The mask will effectively moisturize the hair and provide it with the protein necessary for improving hair growth.
7. Hair mask with rapeseed oil and mayonnaise
On the basis of rapeseed oil, you can prepare one more hair mask – with mayonnaise. For this purpose, even parts of oil and mayonnaise should be mixed; optionally, you can add evening primrose oil. To improve the aroma, the mixture can be enriched with a few drops of your favorite essential oil. After thoroughly combining the ingredients, massage the blend into the hair, then wrap your hair in a towel or put on a shower cap and leave like that for 2-3 hours, then give it a thorough wash.