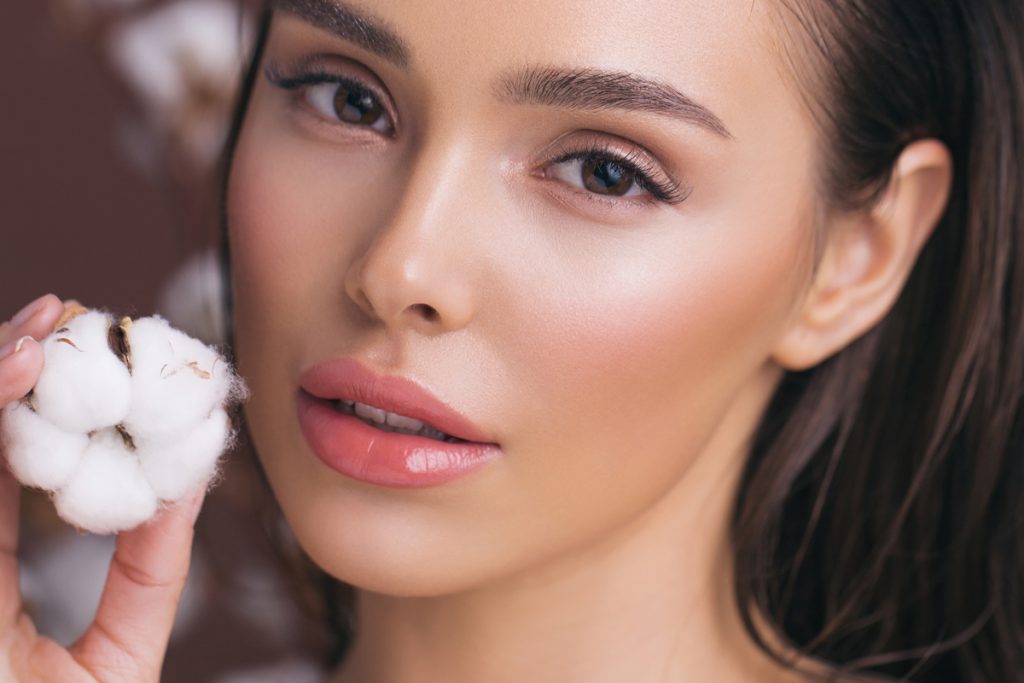 Post-facial glow is the newest makeup trend for the autumn-winter season. Thanks to it, the skin will appear as makeup-free with semi-wet glow and gentle blush. How can you achieve post-facial glow and what are possible variants?
Natural look fashion
Post-facial glow is hardly the first makeup trend with main purpose to be natural. In the summer, we had dewy skin, i.e. hydrated skin that appears dewy. Post-facial glow continues it in the autumn-winter edition. Its foundation is glowing, relaxed and supple face skin.
Post-facial glow – variants
Post-facial glow exists in both evening and nude edition. The evening variant is makeup with thick black eyeliner and red lipstick. However, for the day to day basis best solution will be equally effective yet natural look with no powder or mascara.
How to achieve post-facial glow?
You need to start with a face massage and take care of the skin on the nourishment level. Skillfully performed massage stimulates blood circulation, removes toxins and eliminates swelling in order to provide skin with a healthy and glowing look. Skincare should follow in the three steps.
Post-facial glow effect – step I. Exfoliation
Only regularly performed scrub will cleanse the skin from dead skin cells and as a result, allow all the precious ingredients contained in the serum and cream to penetrate into the deeper skin layers. The type and frequency of the scrub depend on the skin type. As an example, dry skin needs two exfoliating treatments a week tops. The safest will be enzymatic scrub – with acids holding gentle action. Additionally, once a year retinol treatment is recommended for stimulation of new skin cells production and a boost of collagen and elastin production, flattening shallow wrinkles and improvement of general skin quality. Azelaic acid and retinol scrub is a cosmetic effectively exfoliating dry skin.
On the other hand, women with oily skin should equip in products dedicated to everyday exfoliation, for example, sweet almond acid, salicylic acid or glycolic acid. These products normalize sebum secretion, eliminate blackheads and calm inflammations on a regular basis.
Post-facial glow – step II. Moisturizing
Once the exfoliation is done, it is time for moisturizing. This is task best for the serum, such as one with snail slime or natural oils: Abyssinian or jojoba. This is a cosmetic known for skin regeneration boost, redness elimination, and lifting effect.
After the serum, go for a cream that will absorb fast and leave no greasy layer. Also, once or twice a week you should treat your skin to the moisturizing face mask, best with hyaluronic acid. It is particularly recommended to try the sheet mask.
Post-facial glow – step III. Makeup
Finally, how should you make that post-facial glow makeup? The foundation needs to hold coverage good enough to hide the imperfections yet look natural. A great choice is a mineral foundation due to its ability to blend with the skin complexion.